An Insider's View To Ophthalmic Recruiting, Step By Step
Most practices (or recruiters) operate "seat-of-the-pants" when they recruit.  Others tend to follow the old-school paradigm of ophthalmic recruiting:
Four-Steps of Old-School Recruiting
Post a job listing-Target "Best-Available" candidates
Read emails & attached CVs
Interview finalists & select "Best-Liked" candidate
Hope & pray they work out
Great hiring combines the best of art and science.  The model below distills 25 years of recruiting success and best practices to one diagram.
Recruiting, like chess, remains a game marinated in strategy.  You make game-winning moves at the beginning, not the end.  For you to achieve WIN/WIN recruiting, build a profile of your IDEAL Candidate first.  Erect this standard against which you'll compare every candidate.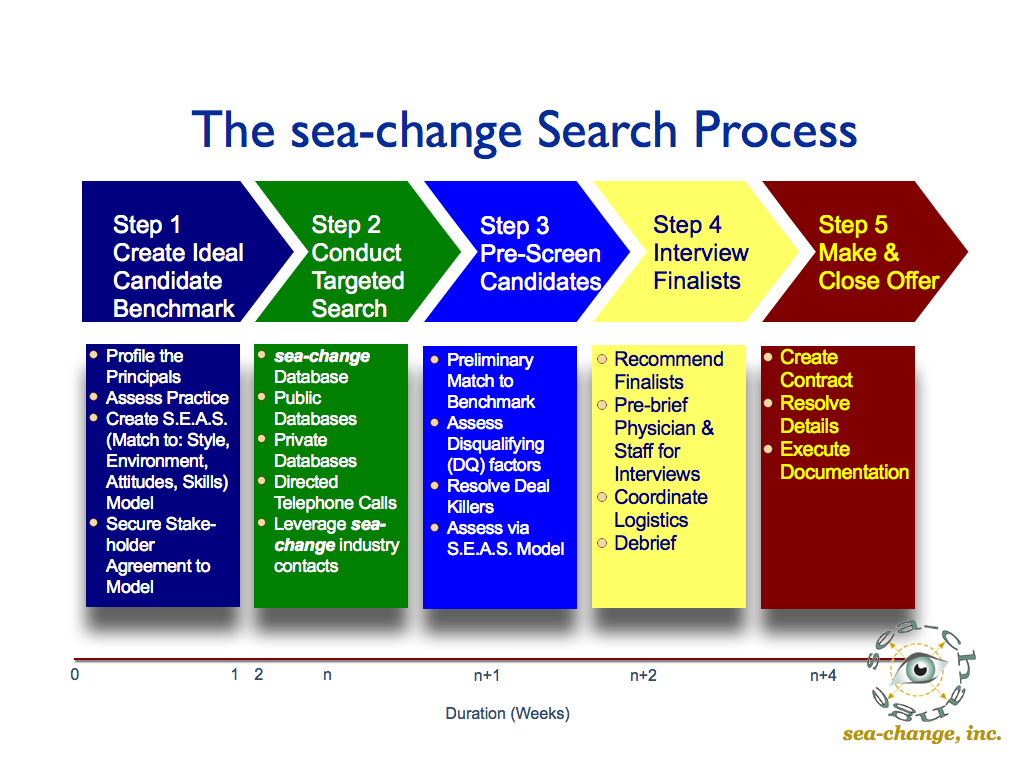 Unfortunately, most recruiters ignore this most important step of the hiring process…and it becomes their downfall.  Without a benchmark…how will you know you've found "IDEAL" if you don't have a standard against which to measure?
Everyone asks me, "How long will our search take?"
Length of search (n in the diagram above) depends upon two factors: the complexity of your IDEAL candidate criteria and the available pool from which you search.  The best method for shortening n is to increase the size of the search pool.  (Read Step Two of the process.)
Step One– We begin by profiling practice principals AND characteristics of the practice.
Why?  Attitudinal mismatches account for most recruiting breakdowns.  Mismatched personality styles end nearly as many relationships, followed by poor Environmental alignment.  Skills and experience mismatches rank fourth on the breakdown list.
We identify characteristics (about you and your practice) that you cannot measure because you simply lack perspective.  "You cannot read the label when you're inside the bottle," quipped one self-aware CEO.  It's a paradox:  You (and your staff) are in the rare position of being the only people who aren't qualified to assess these factors.
Environmental factors include conditions requiring candidate disqualification.  What are the stark realities of your practice- the good, bad and the ugly?  What's your practice model?  What's the work culture?  What community factors could affect associate and spousal contentment? Does your compensation plan fit?
I recommend each stakeholder (those invested in the recruiting outcome) "buys-in" to the model we've developed.  Without consensus, your recruiting process is doomed. Circulate the IDEAL Candidate profile and have each "sign-off" BEFORE beginning the search.  This step prevents emotional static from interfering with sound judgement and objective analysis.
Step Two requires the search team to get busy.  You'll quickly realize telephone prospecting is discouraging, time consuming, fraught with rejection and not for everyone.  But it's vital.  This is why networking amid influential contacts, cold calling and mining private databases combine to accomplish exceptional results.
Step Three– Conduct rapid fire, focused and diligent five-minute phone screens.  This script is critical.  Control the process.  Expose disqualifying factors and make cuts decisively.  Don't place mismatches on the short list.
Step Four– Interview the Genuine candidate.  Ask focused, potent, relevant questions that inspire their mask to come off, revealing the real person.
Finally, Step Five represents the art of the deal.  Negotiating ophthalmic physician employment contracts demands market knowledge, bargaining wisdom and utilization power.  Call for backup.  We're here to help.